THE COUPLE
Photographer Kiersten Jones had shot Stephanie and Cole several times over the years, and described their love as "undeniable."
"I love couples that are so willing to show their love right from the start, and they are one of those couples," says Jones. "They showed their love so fast and it was beautiful."
Three years after Stephanie and Cole's very first shoot with Kiersten Jones, they were engaged. On August 24, 2019, the pair made it official with a sparkling and stylish ceremony at The 5th Floor Ogden.
THE WEDDING

"Stephanie is super stylish as is," says Jones. "She has an urban vibe that I love, so I knew the wedding was going to be full of style. But she blew this one out of the water!"
Stephanie walked the aisle in an absolute dream of a gown from The Bride's Shop, sprinkled with starlight and the perfect amount of decorative sparkle. As she walked the aisle toward her classically-clad love, there wasn't a dry eye in the room.
THE MOOD
For this wedding, the key to the beauty was all in the details. The venue set the boho mood with hundreds of candles, bringing the soft light and wondrous smells that guests wouldn't soon forget. "Most people don't think of a scent for the wedding, but the truth is the smells are so important," says Jones.
A palette of rich neutrals accented with striking golds and topped with table greenery was well lit with breathtaking hanging lights. Tiny details like the beautiful couple's tiny faces on M&M candies showed Stephanie and Cole thought of every elegant and fun element to make their big day unforgettable.
"Their creative eye in designing the wedding made me want to be more creative with my shots for them," says Jones.
"With most couples, I meet them at their engagement session a few months before the wedding and we go from there. I don't have as much time to get to know them. But with these two, it was years in the making. To see some of your favorite clients grow over time and fall more and more in love, until they get to the point where they want to get married is the best."
See more of this dreamy wedding celebration below: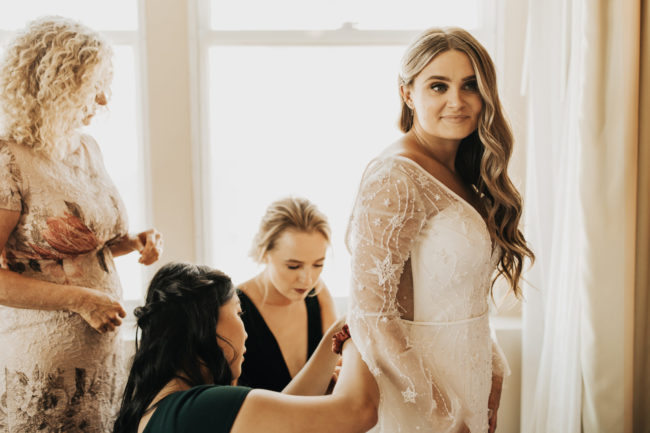 VENDORS
Photographer: Kierstin Jones | @kierstinjones
Floral: Salt and Sagebrush | @saltandsagebrush
Venue: The Fifth Floor | @the5thfloor_ut
Gown: The Bride's Shop | @thebridesshop
MUA: Marisa Rose | @marisarosemph
Hair: Lindsey Kerr | @lindseyekerr
Cake: Sweet Cravings by Marcia | @sweetcravings12
Bride: Stephanie Mitts | @stephaniemitts
Groom: Cole Quartuccio | @colequartootcha