Taylor & Dallon
Bonneville Salt Flats | The Vista at Cedar Hills Gold Club
Photos by Bri Vail
Taylor and Dallon are modern romance personified. When the two matched on Tinder last year, they went on their first date the very next day. And, when they knew, they knew. The couple was engaged four months later. 
When the two had just started dating, they spent a Sunday at the playground with Dallon's little sister. Something about that day stuck in Dallon's mind as the day he knew Taylor was the one.
Months later, Taylor brought Dallon back to that same playground, but this time when Dallon walked up he could hear the couple's favorite song playing and saw that the park was covered in photos of the pair. Taylor had brought Dallon back to the place where he first knew he was in love and popped the question, and Dallon said yes! "Some boys pretend that they'll get engaged on the playground," Dallon explained, "but it actually happened for us!"
Six months later, Taylor and Dallon got married at The Vista at Cedar Hills. According to Dallon, they chose that venue because "it had great indoor and outdoor space [and] a beautiful view overlooking Utah Lake." They chose a simple and elegant color scheme of blue accented with white, gold, and green and topped it all off with pink and white flowers punctuated with eucalyptus leaves by Nannette York.
One of the most important aspects of the event for the couple was inclusivity. They wanted their space to feel inviting and their family and friends to feel welcome. One of the most special components of the ceremony itself was their officiant, Taylor's father. Taylor's dad approached the couple and asked if he could perform the ceremony which meant the world to the couple. "Both of our families are both very strong believers in the LDS faith," Dallon explained, "Taylor's dad was a former bishop and we never expected him to offer [to officiate] or to be able to. We couldn't be more grateful for supportive, loving families."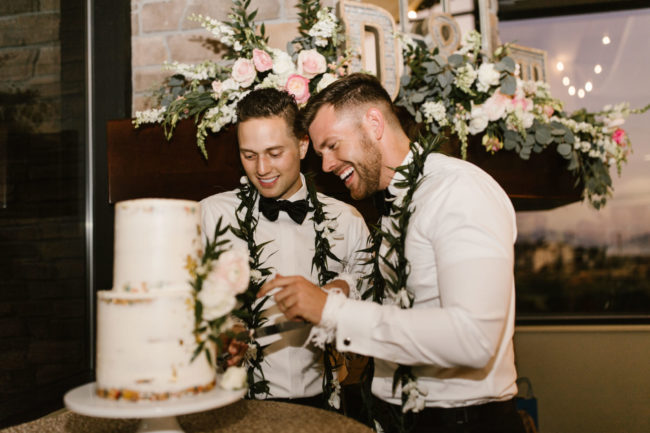 Taylor and Dallon wrapped up the festivities with a full night of dancing alongside their guests. According to Dallon, it was the best part of the wedding. "We hired a DJ and danced for over two hours," he said, "everyone got down on the dance floor! Taylor and I had our first dance to I Will Always Be Yours by Ben Rector and ended the night with a slow dance to Lover by Taylor Swift.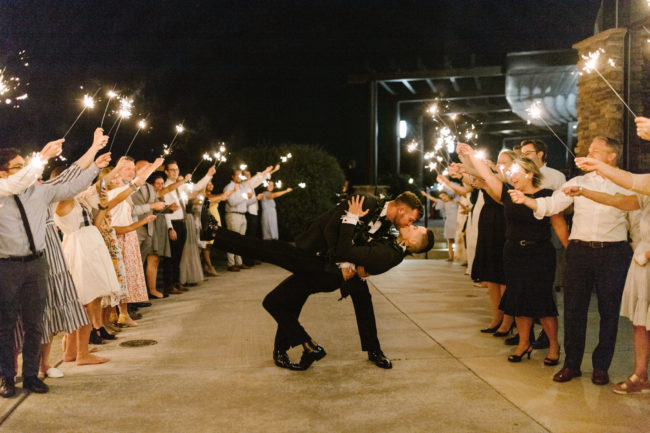 Vendors:
Florist: Nannette York | @nannetteyorkfloral
Tuxedos: The Black Tuxedo | @theblacktux 
Photographer: Bri Vail | @hellobrivail
Venue: The Vista at Cedar Hills | @vistacedarhills
Cake: Jessica Olsen, LUSTR | @lustr.creative_
Caterer: Caley's Catering | @caleyscatering
Lighting: Moon Light Holiday Lighting | @moonlightutah
DJ: Life of the Party | @lifeofthepartydj