Silver Fork Lodge & Restaurant is a full service restaurant open daily for breakfast, lunch and dinner. Silver Fork Lodge also offers 7 guest rooms and stays are complete with a complimentary breakfast every morning. We have a free shuttle for guests of the lodge and ski resorts to and from Silver Fork. Solitude ski resort is only 1 mile away and Brighton Ski Resort is 3 miles away. A beautiful indoor/outdoor banquet area surrounded by mountains, aspens and pines is a perfect backdrop for weddings and special events. Enjoy your special event with great food and hospitality at Silver Fork Lodge & Restaurant.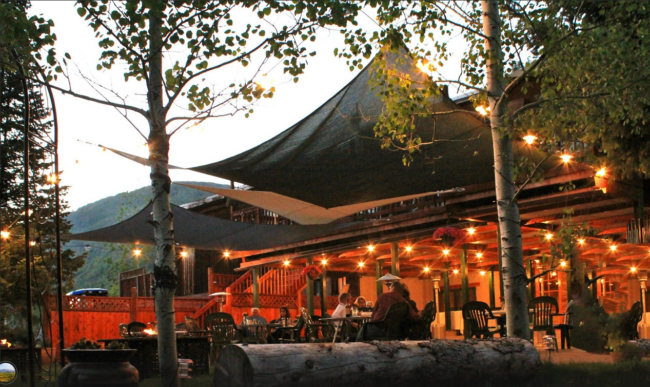 One unique wedding that took place at Silver Fork Lodge was the bride and groom stood in the middle of a circle of family and friends and exchanged vows. Wildflowers decorated the lower lawn and all their tables and the sunlight glowed in the aspens and pines. Afterward everyone danced and mingled well into the evening, the fires were going and the atmosphere couldn't be better. The couple was so relaxed and happy.
Another interesting wedding and the most unique that I've seen so far, was a traditional middle eastern wedding ceremony. The ceremony was close to two hours long with traditional dress and decor. They even brought in specialty ethnic desserts. Silver Fork Lodge is a great back drop for any style you want to create.
The weddings vary from season to season. In the summer time we have an indoor/outdoor banquet area that can hold up to 240 guests. Ceremonies and receptions can be mostly outside surrounded by mountains, aspens and pines and fireplaces when the sun goes down. In the winter we do have some brave couples that brave the cold and choose to do a ceremony outside on our upper deck. The deck has amazing views and is worth dressing a little warmer to enjoy the ceremony outside. The inside banquet room can be used for groups up to 60 in the winter for the reception. Or bigger groups can close the restaurant.
To someone who doesn't know the area, I would say Silver Fork Lodge & Restaurant is a full service restaurant open year round for breakfast, lunch and dinner, bed and breakfast and wedding and event venue. We are in the heart of the Wasatch Mountains and within a five minute drive to two awesome ski resorts, Brighton and Solitude. We have a historic building with rustic charm, cozy fireplaces, extraordinary views and love to provide hospitality to our guests.