Where we're going, there are no rules. 
"Don't be afraid of color" is the number one thing Chris Lavoie wants to tell couples. The Silver Summit Events founder teams with his favorite cast of creatives to show off the power of rich color, edgy textiles and vibrant blooms. He shares tips and tricks creating an avant-garde Utah party style.
Define Your Style
You know all those wedding images you just pinned? Delete now. "When we start working with a bride, we have them send us images they love that are NOT weddings. I want to understand what they are drawn to aesthetically. Architecture, art, fashion and interior design help us to understand them more than seeing their Pinterest wedding boards."
Push the Party Palette
"The biggest mistake brides make is thinking that in order for their wedding to look bridal, it needs to be white, ivory or blush," Lavoie says. "Don't be afraid of fuchsia, purple or even black." Enter Orchid Dynasty's Shelly Huynh, who is a frequent guest of honor at floral shows in Hong Kong, Shanghai and Bali. Floral art is her game, so naturally Huynh infuses head wreaths, table centerpieces and bouquets with her signature lush carpet of velvety orchids–phalaenopsis, mokaras and cymbidiums.
Make A Bucket List
Lavoie creates two metaphorical buckets with his clients: one a Need-to-Have and the other Nice-to-Have. If breaking the rules is desired, what traditional elements need to happen in order for this to be a wedding? "There are things that skill make it wedding-like, such as a white or ivory gown with lace. The outfits need to be special in some way," Lavoie explains. Seating is a must, too, but also has room for interpretation.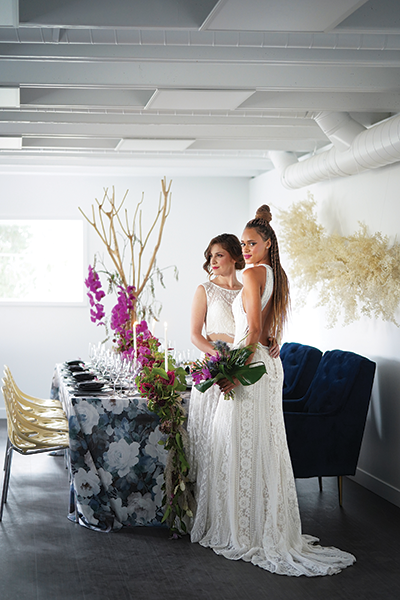 "My clients aren't doing sweetheart tables anymore. Coules want to mingle, so head tables are a great option. I recently did a wedding with a head table of 40 people."
Pack Light
Dancing, hugging and toasting all require one thing: easy movement. Comfortable elegance can result from a cotton lace pantsuit or a well-tailored halter-top gown. While ball gowns and big bouquets are synonymous with weddings, those things can be cumbersome when it comes to party time. "No one talks about how heavy gowns are during the day. Last weekend, I had a bride who needed two people to help get in and out of her chair because he gown was so big," Lavoie says.
Photographer Pepper Nix has experienced similar situations. "If a bride wants that big ball gown moment, she can use it for a bridal session–like Carrie Bradshaw did for a photoshoot in the Sex and the City movie–then wear it for the ceremony and change into a sleeker gown for the reception."
Write A One-of-a-Kind Script
Be smart about your Hollywood moment. "I don't edit in a linear way. There's a lot of time-shifting," says film artist Jared Wortley, whose sensational movies require some preparation before the big day. "I base my story-driven films on two things, both captured by the microphone: the ceremony and the toasts. That's where I get my storyline. If someone gives a roast, albeit funny, it doesn't feed into the couple's storyline. I also tell my couples to write their own vows. For the film, it's so much better than watching them repeat after the officiant."
The same applies, in real life. Mic drop. Get more inspiration here! 
VENDORS

Photography: Pepper Nix | @peppernix
Planner: Silver Summit Events | @silversummitevents
Venue/Florals: Orchid Dynasty | @orchiddynasty
Video: Jared Wortley | @jaredwortleyfilms
Hair and Makeup: Looks by Diana | @looksbydiana
Rentals: In the Event | @weareintheevent
Linens: BBJ Linen | @bbjlinen
Gown: LatterDayBride | @latterdaybride