Megan and Jeffrey—who recently tied the knot at San Diego's LDS Temple—have a church group to thank for their worlds colliding.  "We met through the singles activities through our church. We kept running into each other at various events," Megan says. "He was pretty shy, but his parents really liked me and urged him to date me. Which I think was a little intimidating for him."
"We spoke every once and awhile and after a couple of months, he finally asked me out," Megan recalls. "We were just instantly friends, I felt super safe and that's what drew me to him, emotionally and physically. It was an immediate connection for both of us. Our first date, we went up Provo canyon to go stargazing and he brought a high powered telescope and we were looking at the stars."
"Eventually, we went ring shopping and I found the ring I wanted from a local jeweler. Obviously, I knew he was going to propose, because we had talked about getting married before," Megan says.
Jeff picked me up one day and with a worried look on his face he said, 'They sold the ring.' But I didn't quite buy his story. It turns out he'd actually bought the ring, but he kept it a secret from me for two weeks.
He asked me if we could do Valentine's day early, he wanted to take me up the canyon. But he kept asking me if I was going to get work off early, so I had a feeling that something was going on."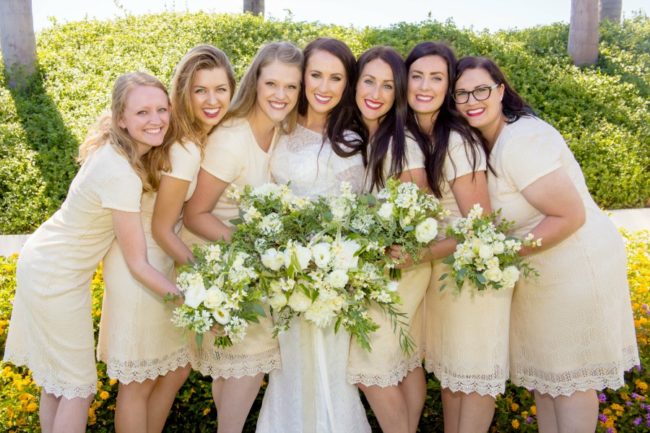 "He picked me up and brought his spotting scope and he told me that we were going scouting for elk. As he was looking through the spotting scope, I could see something in the distance and thought it was a road sign of some sort on the side of the hill."
"He told me to look through the spotting scope. When I did there was a sign that read, 'Megan will you marry me' and there was a bouquet of flowers sitting below it."
"I was so excited, I didn't know what to say. I just turned around and he was on his knee. I said yes."
Megan and Jeffrey were married on June 17th in San Diego at the San Diego LDS Temple. They were joined by friends and family in a beautiful backyard reception.
VENDORS:
Photos: Alicia Ann Photography
Cake: @pure_capiness
Bridal party flowers: White Lily Lane
Reception Flowers: Floral Occasions by Janna Hatch
Dress: Oleg Cassini
______
Written by: Ashley Baker