Their love story was truly a Hallmark movie in the making. A wedding planner meets her dream man at her best friend's wedding while on date with another guy.
But that's exactly what happened on August 24th, 2020 in Fountain Hills, Arizona. She couldn't resist checking out this blonde hair, blue-eyed guy that showed up mid-way into the party. She had an overwhelming feeling that she had met him before.
With only minutes to spare, the man she had had both of her eyes on finally came over to stand next to her at the sparkler sendoff for the newlywed best friend and her new husband.  Thinking again that they had met before, she approached him with a twinkle in her eye and said, "you look so familiar. Have we met before?"  The two strangers tried without success to discover where they might have met. Was it an online dating app like Mutual? Was it church institute? Was it somewhere he had played the piano? He finally reached out his hand and said, "Well I'm Dave. Nice to meet you. What's your name?" She replied that her name was Brianne. "Well Brianne, we should get together for ice cream sometime when you are back in town. Do you come to Phoenix often?"
Just then, Brianne's date came back and upon discovering that Dave appeared to be interested in his Brianne decided to have some fun with the situation. Standing behind Dave he did everything he could to make Brianne laugh by making funny faces and kissy lips with his brother (who was also in attendance). He was almost successful. But right before Brianne began to lose it, she attempted to separate herself from the situation by telling Dave that her feet hurt and that she would like to retrieve her shoes from inside the church and that he should come with her. The new friends made their way into the building and soon Dave had her number. The two then separated and Brianne went on with her original date. They were away on their dating activity for the evening riding electric scooters when he said over and over again to make fun of her "you're going to marry that man." Little did he know how true that statement would be.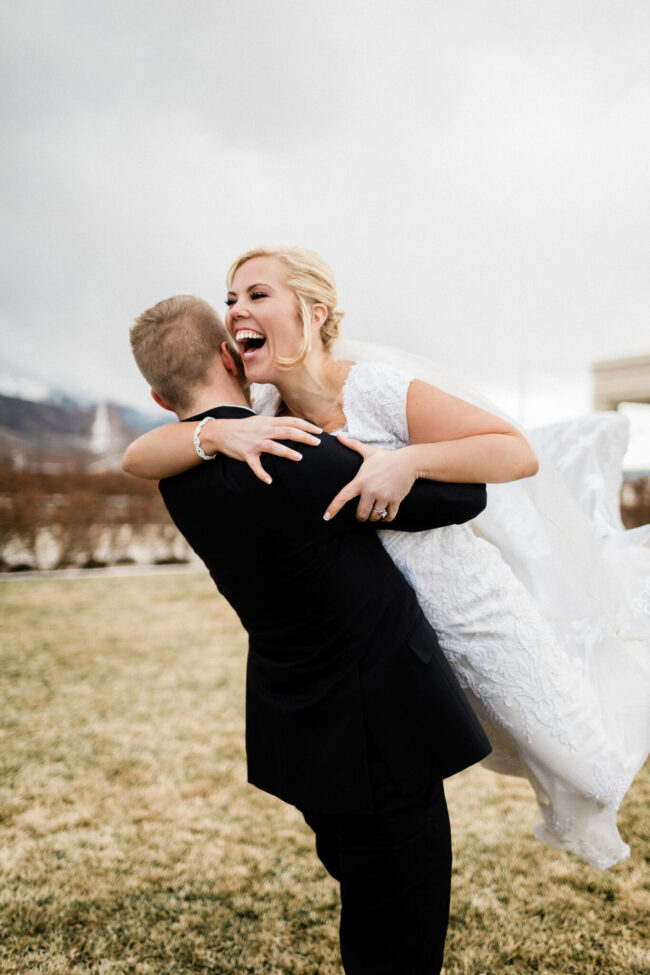 Vendors…
Venue: Wadley Farms | @wadleyfarms
Photographer: Jadie Jo Photography | @jadiejophotography
Dress: Mary's Bridal | @marysbridalslc
Florist: Cynthia Thorsen | @customizedbycynthia