The inspiration all started with the bouquet. When photographer Jackie Siggard laid eyes on this massive collection of lush florals with soft pink hues, she knew that she wanted to do a shoot centered around the blooms. The result was a stunning luxury photoshoot with ample amounts of romance.
"I wanted to do more of a luxury styled shoot," Siggard says. "I had seen a gorgeous bouquet and wanted to style a shoot around that with soft pinks as the colors."
From there the inspiration ran wild. With the Light Loft Studio as a perfect canvas to create in, Siggard curated a wall of colorful hanging rugs as a backdrop with the bouquet always in full view. A mix of classic modern romance and bohemian edge meet in the bride's gown: traditional, intricate lace in a romantic silhouette with an overlay of gossamer tulle. 
Siggard added yet another twist to the shoot with the inclusion of bridesmaids. "No bride is complete without her maids by her side for the big day," says Siggard. 
From the blushing bridesmaids gowns to the watercolor paper trousseau, Siggard used a soft pink color palette to tie every last detail together, with the colorful backdrop making the happy couple pop.
Scroll on through for more modernized elegance in this shoot!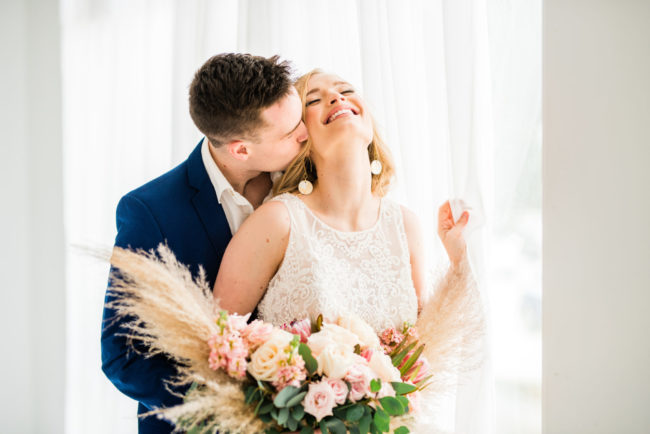 VENDORS: