After nine years of beautiful events, stunning spreads and fashion pioneering, Utah Bride and Groom magazine said farewell to our editor, Valerie Rasmussen, and the event pros at Decoration, Inc., Fuse Weddings & Events and Blended Table made certain she went out with a bang.
February 27, 2020
Blended Table 
At this soirée, the guest of honor was the theme. With a background in floral, event design and wedding editorial production, Val has seen it all.
"There's not much that is going to blow Val away," says floral designer Amanda Hansen of Decoration, Inc. "So we kept it simple and classic, as she would like it – cocktail party vibes to celebrate a wonderful friend and her career."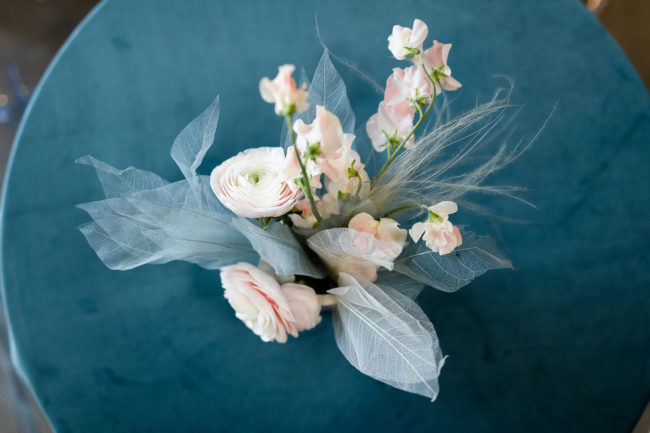 Hansen brought airy spring beauty to Blended Table's industrial, raw space, but stayed true the location's modern mood. Subtle hues graced her floral arrangements packed with texture: parrot tulips, butterfly ranunculus, and garden roses on beds of skeleton leaves and bleached ferns.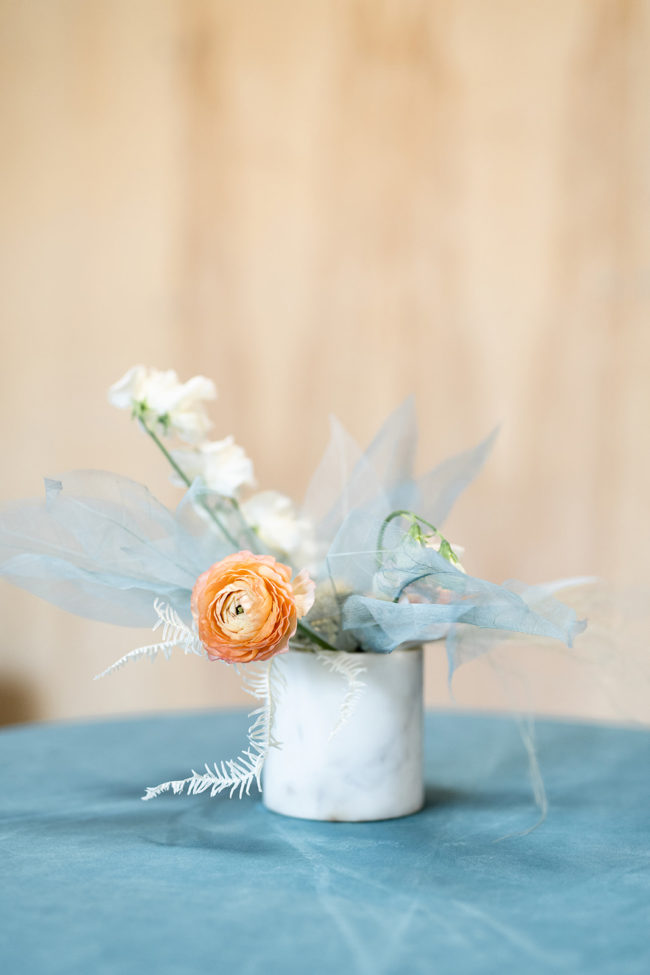 The star décor brought the personality and sentiment to the party: a giant gallery wall featuring headshots of Val for every year she spent perfecting the magazine. The display was framed by a striking floral arrangement in an ombre blend to highlight every perfect bloom. "A full blend of the florals would have masked all those textures and delicate hues," says Hansen. Paired with Blended Table's velvet aqua linens, the palette was perfectly contemporary for celebrating a modern boss woman. 
Simple blooms and a springy palette served as the ideal backdrop for Blended Table's knockout new menu tested for the event. "Emery's food is so strong that we didn't need a lot of décor to boost it up," says Hansen. "Each dish is delicious and beautifully plated. It speaks for itself." 
"When we heard Val was leaving the magazine, I immediately texted Amanda and Mara to se if they would be willing to co-host an event with us at our space," says Emery Lorshter, owner/head chef at Blended Table. "Val has always been a huge supporter of our small business and we wanted to not only thank her, but also give her a lovely send off."
Lorshter and her team had been working on a few new items to add to their rotation, and found the perfect time to taste test the dishes in this event.
Guests were greeted at the door with a choice of various wines or beautifully garnished infused botanical water. When dining time arrived, each guest got a miniature portion of every new menu item: poached black cod with caper berry fennel relish and gold beet puree, red wine braised beef short rib with mascarpone mashed potatoes and gremolata, composed ash chèvre with slow roasted beets, baby greens, pistachios and champagne vinaigrette.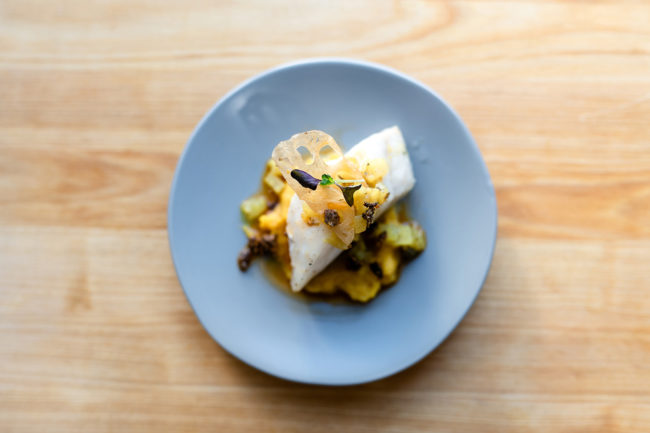 And for dessert? Herb-packed olive oil poundcake with fruit compote and chamomile crumble, and mini pavlovas with fresh blueberries, whipped cream, blueberries and lemon zest.
Packed with wonderful contemporary florals, a too-pretty-to-eat menu and a Mara Marian curated guest list full of wedding pros and friends who love Val as much as we do, this celebration was a night to remember.