Sundance Mountain Resort 
Provo Canyon
September 8th, 2019
Photos by Sparkle Photography
The Couple
Amy and Nick met at a mutual friend's wedding in Cape Cod, Massachusetts. "We spent the weekend bonding over our shared love of hiking and the outdoors. When we said goodbye, we knew it wouldn't be the last time we saw each other," Amy explains. three-and-a-half years later–and four days after completing the Chicago marathon together–Nick surprised Amy with a trip to Death Valley National Park in California. There, he proposed to Amy after they hiked 11,000 feet to Telescope Peak.
"He had carried the ring, along with a small bottle of champagne, a fresh loaf of bread and fancy cheese to celebrate. There were a few people on top who took our photo, and it felt like we floated the whole way down."
The Wedding
"We decided that we would get married in Utah because we went hiking in Utah on our first date," Amy says. Utah's mountains and geographical locations made it the ideal destination for the big day. Guests–some traveling from around the world–stayed at Sundance Mountain Resort and began the wedding weekend with a mountain top rehearsal dinner at Sundance's Bearclaw Cabin.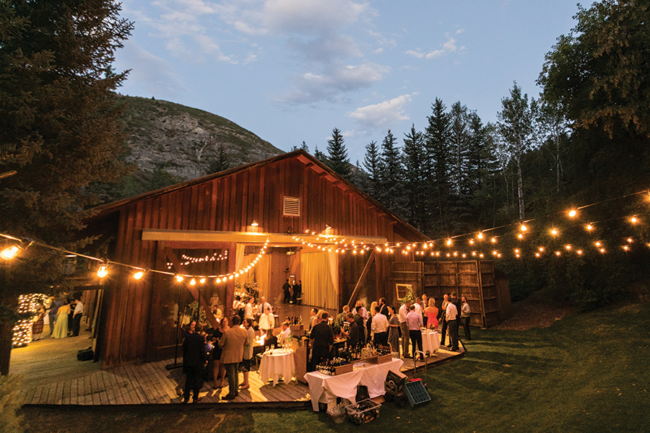 "Our guests had to take two chairlifts to reach the cabin, but it was worth it. The weather was perfect, we had summery cocktails, great barbecue and handed out customized blankets for the ride down," Amy says. The next day, the duo joined in a ceremony that they wrote themselves. "We chose to repeat the same vows, rather than write separate ones. In the end, it was wonderful to seal our commitment to each other with words we cad crafted together.
The Mood
With the help of Silver Summit Events, Amy and Nick unveiled a funky, playful, forested scene–using lush blooms and elegant decor in hues of forest green, peachy pink, gold and bright and rusty orange hues. "We had the barn doors open so our gusts could enjoy the bistro tables on the boardwalk next to the river," Amy says. Additional bars, two fire pits and lounge furniture provided gathering spaces for the guests. The most unique part of the wedding was a visit from two llamas–a surprise from Amy to Nick.
The Menu
"We chose menu items inspired by locally available ingredients and wanted to make sure we had a variety of choices for our guests who travelled from near and far to celebrate with us," Amy says.
Cocktail hour featured artisan cheeses with local accoutrements, along with hummus and homemade pita. For dinner, guest chose from pepper-crusted beef filet with mango chutney, pan-seared trout filet with brown butter sauce and vegetarian goat-cheese tart with roasted peppers. "WE also added a few delightful desserts to accompany our Funfetti cake; chocolate chip bread pudding and assorted cookies and brownies."
The Tunes
"Our main goal with music was to make sure our guests had fun and could dance. The band played a variety of oldies and new pop. Everyone ended up on the dance floor at some point during the night," Amy says. Amy and Nick danced to a favorite Bob Marley tune, 'Is This Love' for their first dance. "This song spoke to us because th refrain says, 'I want to love you and treat you right."
The Honeymoon
Amy and Nick flew first to Chile and then to Argentina. "We spent two days in Ushuaia, ten days traveling in Patagonia (including five nights in mountain huts), and finished up in Buenos Aires. We saw glaciers, mountains and animals. We visited the famed secret bars of the Palermo Hollywood neighborhood, made friends and met farmers, ate empanadas and steak and drank all of the Argentine wine we could. It was our dream trip. Traveling to Patagonia had always been something we wanted to do and we decided that it was the perfect honeymoon because it combined the outdoors, culture and delicious food."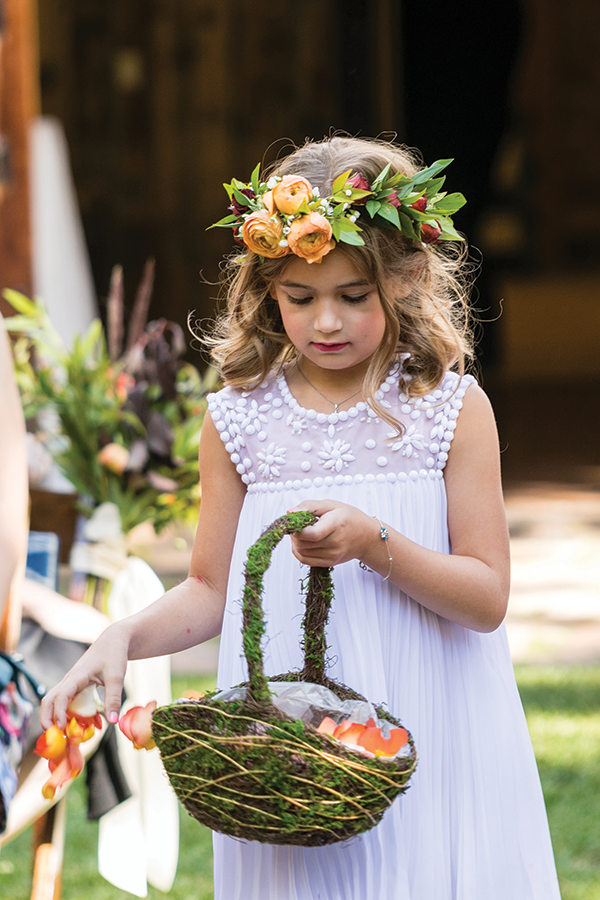 VENDORS

Photography: Sparkle Photography | @sparkle_illuminating
Wedding Planner and Rentals: Silver Summit Events | @silversummitevents
Catering and Venue: Sundance Mountain Resort | @sundanceresort
Cake: Flour & Flourish | @flourandflourish
Flowers: Artisan Bloom | @artisanbloom
Bridal Rings: Mineralogy Design, Chicago | @minerology
Groom's Ring: Brilliant Earth, Chicago | @brilliantearth
Paper: Wide Eyes Paper Co., Portland | @wideeyespaperco
Gown: Hayley Paige, via Alice in Ivory Chicago | @aliceinivorychicago
Alterations: Dress Doctor, Chicago | @thedressdoctor
Groom's Suit: Ted Baker, Nordstrom | @ted_baker
Groomsmen's Ties: Tie Bar, Boston | @thetiebar
Maid of Honor Gown: BHLDN | @bhldn
Entertainment: Groove Merchants, Utah Live Bands | @thegroovemerchants
Officient: Judge Lynn Davis |