Courtney McOmber: Model
 "What an amazing week!" — Courtney McOmber
"I walked for Allison Hallstrom and Alyssa Bybee during Wednesday evening's swimwear show," says UFW model, Courtney McOmber.
"I was really excited until I came out from behind the curtain for the first walk and the first words that came to my mind as I stood there feeling completely exposed with every eye in the room on me were, what am I doing!? After the initial shock wore off it was exhilarating and such an incredible experience," she says.
"The Bridal event was my favorite show," says Courtney.  "I walked for Natalie Workman [Natalie Wynn Design] and Janay Robison [Janay Marie Designs] and both of their gowns were absolutely stunning."
 "It was great meeting and working with so many talented hair and makeup artists —they put in so many long hours, some of them staying up to 10 hours to help make quick changes between collections," she says. "I had literally five minutes max to change gowns and shoes and have my hair and makeup done completely differently before I was back on the runway. It was a whirlwind!"
In the Urban Streetwear show, Courtney walked for Kristin Silvestri of Armor and Arrows. "Her collection was such a playful mix of hard and soft," she says.
"Each time right before I walked, I got a little bit of the butterflies in my stomach. The layout of this runway required precise counts and timing with three other models to avoid collision, but it was the best feeling when you nailed it," she says.
"It was also fun to meet Cartier and Allie of Project Runway Junior! They both showed collections that were amazing- especially considering how young they are, I was so impressed with them, they are both such sweet girls," says Courtney.
Saturday was the Evening wear and Avant-garde show.  Courtney walked for Andra Jones of Lyla Dawn Apparel and Afa Ah Loo.
"My favorite collection of the entire week was, without a doubt, Afa's," Courtney says. "His looks were all well designed, cohesive and had so many little details– the quality of his work is unmistakeable."
Courtney hopes to walk in the show again next year and she highly recommends that aspiring models try out for the event.
"It was a great experience and really helped me grow. I made incredible friends, gained confidence and loved being part of this creative process with so many inspiring people," Courtney says.
According to Courtney, Utah may not be the state that first comes to mind when one thinks of fashion, but she believes that UFW will change that.
"I would keep an eye on these [local] designers because one day Natalie Workman, Janay Robison or Afa Ah Loo could be the next Michael Kors or Vera Wang," she says.
Sandra Oblad: Bridal Gown Designer
"I could feel my heart beating when the girls started walking out the door." —Sandra Oblad
Designer Sandra Oblad  describes how she felt during the debut of her collection at Utah Fashion Week's bridal event on Thursday.
"I was so nervous, but I loved my models, they were so down to earth and willing to work with anything I wanted to put on them. They were willing to help each other out by switching out clothing and shoes," Sandra says.
"The Makeup team they gave me was amazing. I can't believe they do so much work just to help you out," says Sandra.
Sandra explained how one stylist completed the hair for 12 different models.
"One girl did everyone's hair because the other girl didn't show…she was exhausted by the end of the night," she says.
The highlight of the event for Sandra was when she stood backstage and watched as her dresses started down the runway.
"The best part was when I was watching the girls leave to go on stage," says Sandra.
The designers were able to choose the mood and music that their collection would be shown to. Sandra chose a lively spanish theme to accompany her colorful display of dresses.
"I chose the music, I speak spanish, and the music talked about how wonderful this girl was," says Sandra. "I wanted to make it unique, like my style," she says.
Sandra is already working on next year's compilation, and she has been inspired to create different designs and participate in more shows.
"I would like to do formal dresses and I would like to show my designs in another show also," says Sandra.
"I loved it, I really had fun. I was very nervous, but It was an amazing experience. My heart was beating when the girls started walking out the door," she says. "I will do it again just for the way I felt in that moment."
Sandra advises that being involved with UFW is a great way for new designers to see and learn about how fashion works, and what to expect not only of the industry, but from yourself as a designer.
"I have ideas about how to better myself for next year. Everyone that wants to go into fashion should do it," says Sandra. "It pushes you to do something better and better next time. I loved it."
Sandra Oblad will not be selling dresses at the sample show, but she will use them as samples for her dress line which will be available by the middle of the year.
As for what to expect in next year's collection, "Lots of colors of course. They're [dresses] going to be stylish and fun," says Sandra.
Janay Robison: Producer and Fashion Designer:
"Utah does have a fashion scene and so many talented people on all ends." —Janay Robison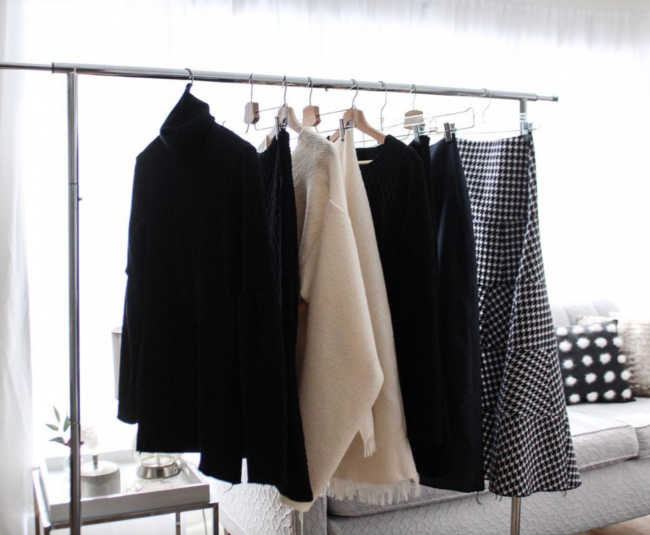 "We are so excited, things ran smoothly, we've had a lot of positive response. It's fun to see the hashtags of the Fashion Show on Instagram, so that's been really great," says designer and producer of Utah Fashion Week, Janay Robison.
"For me, as a designer I love seeing all of the other designers clothes up close. It's great seeing audience members reactions to the different pieces. And seeing the models, designers and stylists [hair and makeup] admiring each others work. It's so neat to see how it all turns out," Janay says.
"It was great to see how much everyone appreciates everyone else's work," Janay says. "Utah does have a fashion scene and so many talented people on all ends."
Utah Fashion Week is expected to grow with some changes already in the works for next years show, details will be released as soon as they're finalized.
 There are sample sales today and tomorrow, at Trolley Square, however, not every designer is participating, there are several who will be selling samples and taking custom orders for the pieces off the runway.
The Sample sales run today, Monday, March 20 through Tuesday, March 21. They're located at Trolley Square, upstairs just east of the Old Spaghetti Factory, in the same space the pop-up shops were held. Hours: 3pm — 9pm.

Written by
——
Ashley Baker